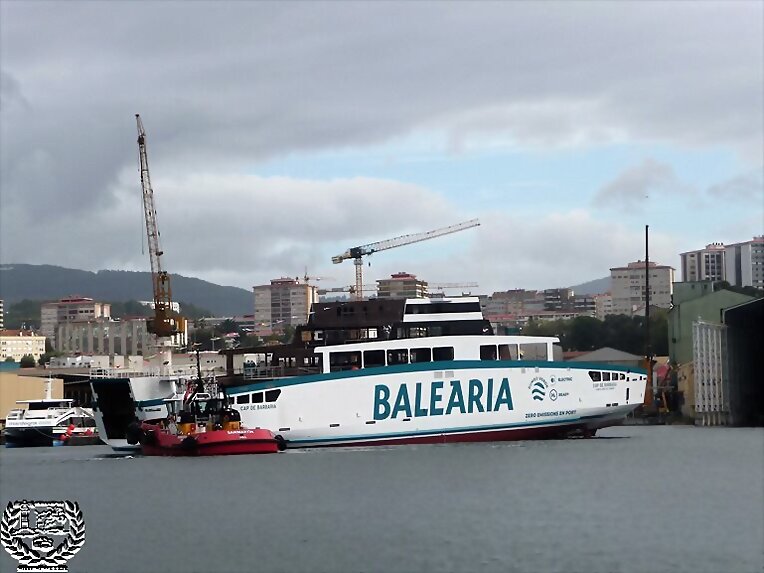 The shipyards of the Grupo Armón Vigo shipyard. I launch the state-of-the-art ferry with the construction name "Armón Vigo V138" into the sea, it will be destined for the Spanish company Baleària. It is the first electric ferry baptized with the name 'Cap de Barbaria' to sail on the Ibiza-Formentera line. The ship is 83 meters long and 15.5 meters wide, powered by two engines of 1,140 kW each, and will be able to navigate at 14 knots. The electric ferry has a "Double Ended" design. It will carry both the bow and the stern and will be able to transport 14 trucks and 350 passengers.
The "Cap de Barbaria" is the first electric ferry in Spain for passengers and cargo without polluting emissions in the stays and approaches to port that is built in Spain and perhaps also in Europe. During all phases of approach, manoeuvre, mooring and stay in port, the ship will not emit polluting gases into the atmosphere and, therefore, will represent a substantial improvement in air quality compared to ships currently operating on the route.
She with a very tight energy consumption, she without emitting polluting gases in port thanks to its electric propulsion powered by batteries. Thanks to this technology and its optimized design, the "Cap de Barbaria" will be the ship with the lowest consumption and emissions in the company's fleet, maintaining the load capacity required by the route. In addition, it will be prepared to become a test laboratory for the use of green hydrogen in the future.
Introduce aquí el texto de tu elección